Centro Machiavelli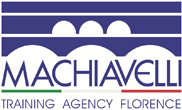 The Machiavelli Centre, founded in 1978, is a consultancy and training organisation since 2008. The Centre has two departments corresponding to its two main fields of activity: Language School for Foreigners and Training Agency. The latter, involved in this project, was born from the many years of work experience of its professionals in the environment of the traditional economic realities that make up the social and cultural fabric of Florence.
The Training Agency has been set up with the following aims:
Promote collaboration and integration among different subjects involved in high quality education;
Promote training paths and models of professional development, functional to local needs, which contributes to the preservation and development of innovation in very traditional sectors;
Foster methodological and technological innovation in education and training, through the creation and testing of innovative projects and practices;
Promote the training of trainers, teachers/educators, youth workers in general;
Promote interculturality, social inclusion and participation of young people in democratic and civil life in Europe.
The Centre has an important experience within EU programmes and in training activities; in the last 10 years realised several multilateral and mobility projects (both as coordinator and partner) within EU Programmes like Lifelong Learning and Erasmus+. CM has experience and runs several activities for promoting the inheritance of Florentine culture. Among them, we mention:
Florence in Art: courses on artistic techniques learned by working with artists and craftsmen in their workshops.
study visits to traditional art exhibitions and workshops in the historic centre of Florence;
apprenticeship and training in traditional Florentine art and artistic craftsmanship.
the "Cultural Education" program: visits to Italian museums and historic cities combined with Italian language courses.