14-15 November 2019 Kick Off Meeting in Florence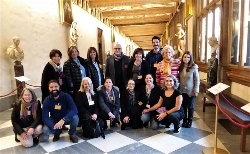 On 14-15 November 2019 started in Florence the HEROES adventure, opening the Erasmus+ project leaded by the Gallerie degli Uffizi towards an innovative way to promote the education on Euopean Cultaral Heritage. The HEROES project aims to strengthen synergies between Educational System and Cultural Heritage Education, improve the quality of education and support effective and innovative pedagogies, fostering permeability between different education and training pathways for the youngest. Its main goal, indeed, is to develop innovative ways for schools to cooperate with other cultural public authorities or private organizations for educative purposes, promoting the inclusion of the cultural heritage dimension at all levels of education, not necessarily as a subject of study in its own right, but as a fertile source for many other subjects and for the personal and civil growth of the students.
The kick off meeting was attended by all the European partners involved: Gallerie degli Uffizi, Centro Machiavelli and the Istituto Tecnico per il Turismo "Marco Polo" Secondary School from Florence (Italy), the University of Malaga, Didactics of Languages, Arts and Sports Dept., (Spain) and the EKEDISY, National Centre for Research and Preservation of School Material ,from Athens (Greece).