13-14 December 2021 Transnational Project Meeting in Malaga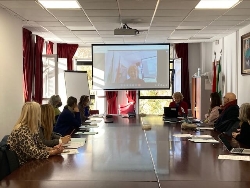 The 13th and 14th of December 2021 held in Malaga the penultimate official transnational project meeting for the HEROES project. The plenary session was hosted by the Spanish Partner UMA (Universidad de Malaga), at the Faculty of Sciences of Education.
The meeting was especially focused on such issues as: the finalization of both the project's outputs (both technical and contents aspects) and on discussing the possible sustainability perspectives of the HEROES action. From the strictly technical, during the meeting, the issues related to the closing phase of the project and work deadlines, as well as the general outlining of the dissemination campaign for the final exploitation of project's results have been faced too. Partners – indeed - are now dealing with the last project's activities, with special regard to those for refining and validating the final version of the I.O1 HEROES Model (composed by Guidelines and by the Operational Peer Educational Method with a proper training offer for Secondary School students combining cultural heritage education and peer approach) and for updating the IO2 HEROES Platform with the more recent experiences carried out within the project. As concern in particular the latter ones, special emphasis was placed in analyzing the Learning Teaching and Training Activities (LTTA) realized between the second half of October and November 2021, where two selected groups of students from the Marco Polo Institute of Florence were hosted by the Spanish and Greek partners to experience a training week based on the educational contents provided by the HEROES Model on cultural heritage. So, during the meeting the partners had the opportunity to deepen in detail the experiences carried out both in Malaga and in Athens for the LTTA and to share and discuss the most relevant results achieved within this key stage of the project.
Finally, the partners also discussed how (and when) to organize the final dissemination and exploitation actions to be realized in each country through the Multiplier Events.
The meeting session was also complemented by a cultural visit to the Centre Pompidou of Malaga. Nicknamed "El Cubo", due to the square shape vaguely reminiscent of a gigantic Rubik's cube and designed by the architects Javier Pérez de la Fuente and Juan Antonio Marín Malavé, the Pompidou in Malaga stands out above the Andalusian city harbor and is one of the museum poles most important in the city, together with the Picasso museum, inaugurated in 2003, and the Carmen Thyssen museum.